Best Portable Wifi Brand 2022 – Technological developments are making it easier for the community, including internet network facilities where providers innovate to provide wireless services so that everyone can get an internet connection easily. The service we are talking about right now is portable wifi which is in great demand at the moment.
Although mobile phones provide services to use provider cards to connect to the internet, users sometimes feel that it is not enough regarding the speed and stability of the network. Therefore, portable wi-fi can be an alternative choice to improve performance for browsing the internet. However, there are still many people who don't know how to choose the best portable wifi from the brand aspect to the price.
Answering this anxiety, in this article we will summarize the portable wifi brand complete with an estimated price that you can take into consideration when buying it. This article can be used as a reference for choosing the recommended portable wifi without having to pay a lot or subscribe.
Best Portable Wifi Recommendations and Latest Price Predictions!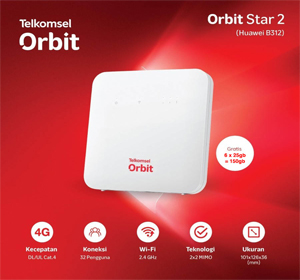 Portable wifi allows you to always be ready to connect to the internet anywhere and anytime so that not a few users choose to use portable wifi when traveling or support mobility using the internet to make it more stable and faster than the internet connection on a cell phone provider card.
In addition, its small and flexible size is very easy to carry and move according to need, moreover portable wifi also has a stand alone battery or can stay active without having to use batteries though. Another advantage of using the best portable wifi, of course, is that the price is still affordable and compatible with SIM card providers in Indonesia.
To make it easier for you to get portable wifi with good quality at the best price, we have summarized several brand recommendations that might be used as your consideration. Considering that portable wifi is an electronic device that must be chosen selectively, here is a full review of wifi brands that you can use as a reference:
1. Brand Telkomsel Orbit Type Huawei B312
The first recommendation for a wifi brand that can be carried everywhere is Telkomsel orbit star 2 with the Huawei B312 device type, which has a fairly light weight of 500 grams with a size of approximately 10x13x3.6 cm. This wifi is able to provide accessibility to 32 users at once, this wifi claims that it can provide speeds of up to 150 mbps and is priced at around 630 thousand.
2. Brand Telkomsel 4G LTE Type Huawei E5577 Max
Still with the same brand, the next portable wifi that we can recommend is Telkomsel 4G LTE with the Huawei E5577 max type. It has an LCD with a size of 1.45 inches which can provide indicators and information to its users, not much different from the previous one which has a speed of 150 mbps which is enough to meet your daily internet needs.
Priced at 835 thousand, you can enjoy stable 2.4 GHz internet with a 3000mh battery capacity and can be used for approximately 12 hours. You can use this wifi together with up to 10 other people without having to subscribe to a monthly basis, making it easy.
3. Brand XL Go IZI Type Huawei E5576
The next portable wifi device that we will discuss is the XL Go IZI brand with the Huawei E5577 type, this portable wifi can be said to be stubborn or a collaboration from the XL provider but don't worry because you can still use another SIM card for use. Priced at 650 thousand, this wifi network has a speed of 150 mbps with a wifi network spread of up to 2.4 GHz and can be accessed by 16 users.
4. Brand Bolt Type MF90
If you are looking for an affordable and cheap portable wifi device under 500 thousand, maybe this Bolt MF90 brand can be your reference. This device can provide accessibility to 10 users at once and is priced at 240 thousand. You need to know that this brand is actually no longer produced but because it is still in stock, Bolt provides access for this wifi so that it can be accessed by other provider cards.
Finally, that's an article about the recommendation for the best portable wifi brand in 2022, complete with an estimated price that you can take into consideration and reference to find the best but affordable wireless wifi device. We hope the article can be useful and see you in our next article update!