Telset.id, Jakarta – Instead of the iPhone 13 Series, the iPhone 12 Series will become the best-selling cellphone and dominate the global HP market in 2021. Apple dominates the market share smartphone globally, according to research firm Counterpoint.
Quoted from Gadgets 360 on Saturday (12/3/2022), Counterpoint released a list of the 10 best-selling cellphones in the world throughout 2021. iPhone 12 filled the first position with a 2.9% market share, followed by iPhone 12 Pro Max and iPhone 13 with a market share of 2.2% and 2.1%.
These three series also contributed 41% of the total sales achieved by Apple. Further confirming its dominance, the fourth and fifth positions of the best-selling cellphones in the world are occupied by the iPhone 12 Pro (2.1%) and iPhone 11 (2%).
Also read: iPhone SE 5G 2022 Benchmark Results
The rest are iPhone SE 2020 and iPhone 13 Pro Max in eighth and ninth positions with 1.6% and 1.3% market share, respectively.
Not only iPhone, Xiaomi also puts 2 of its best cellphones on the list smartphone best seller in the world. The two are Redmi 9A and Redmi 9 which are in seventh and tenth position.
Series smartphone which was released in 2020 it has a market share of 1.9% and 1.1%. As the best-selling cellphones, both of them contributed as much as 22% to the company's total sales.
Unfortunately, unlike the iPhone and Xiaomi, Samsung only put the Samsung Galaxy A12 on the list. This 2 million HP is in sixth place with a 2% market share.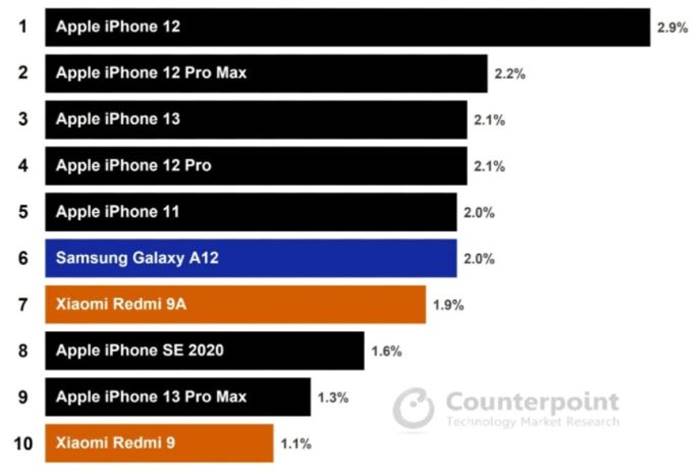 Overall, the 10 best-selling HP models in the world contributed 19% to total unit sales smartphone globally in 2021.
This result shows an increase in the percentage of distribution by 3% compared to the contribution in 2020 which was only 16%.
"The increase in the distribution percentage of the top 10 models shows a trend that manufacturers are focusing more on their leading models and making their portfolios slimmer," said Counterpoint Senior Analyst Karn Chauhan.
Also read: Oppo is the best-selling cellphone brand in Indonesia
Please note that the list of the 10 best-selling mobile phones in the world 2021 is based on research on sales of more than 4,200 models smartphone circulating in the global market in 2021. (NM/MF)