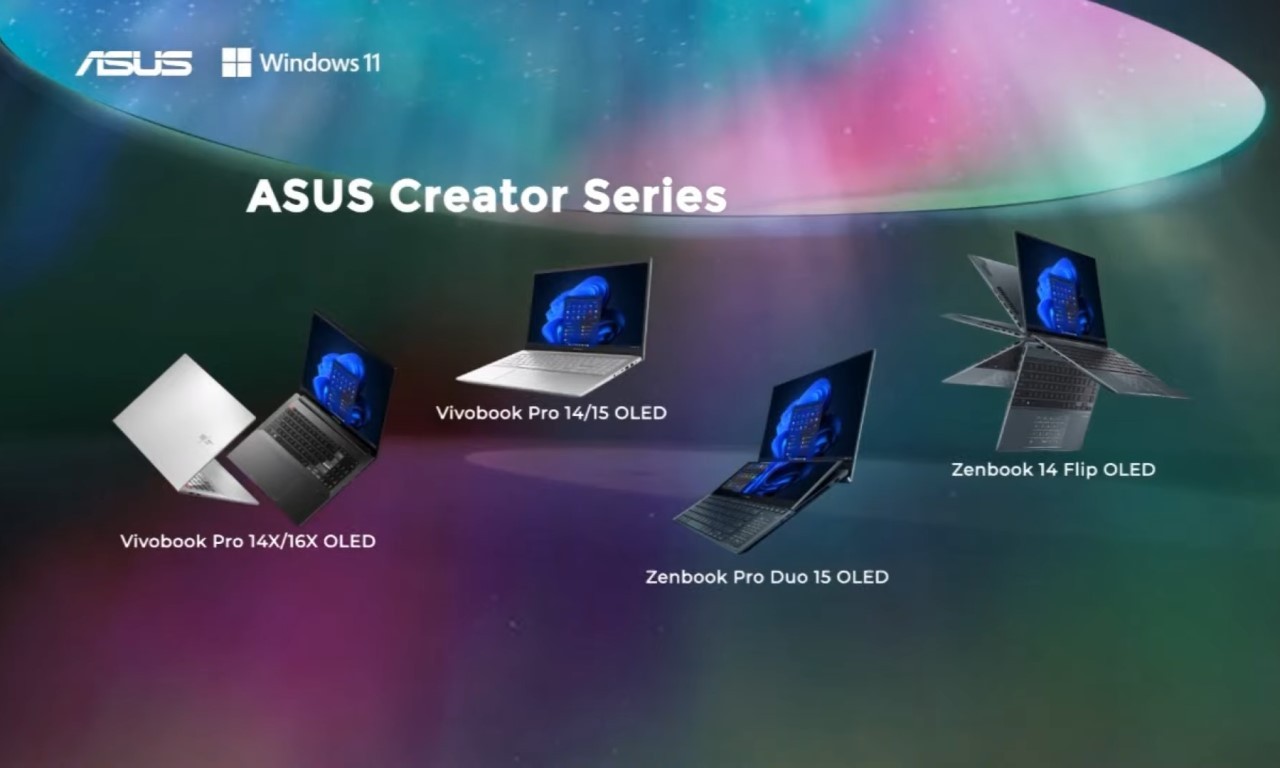 Gadgetren – ASUS Indonesia has presented a new line of ASUS Creator Series laptops, which are supported by OLED panels and target content creators.
The ASUS Creator Series includes four products consisting of the VivoBook Pro 14X/16X OLED, VivoBook Pro 14/15 OLED, ZenBook Pro Duo 15 OLED, and ZenBook 14 Flip OLED. All three products are powered by 11th Generation Intel processors, except for one product that relies on 10th Generation Intel processors, namely the ZenBook Pro Duo 15 OLED.
Even though this line of laptops offers a compact body, ASUS doesn't forget to provide a cooling system in the form of two fans with ASUS IceCool Plus technology so that laptop performance and performance can run smoothly.
According to Davina Larissa as Marketing Manager of ASUS Indonesia, explaining that it is aware of the importance of the creator's need for visual quality and that is the reason ASUS brings a screen technology called ASUS OLED in several VivoBook and ZenBook models.
"Thus making ASUS the most complete OLED laptop brand in Indonesia. Why is that? Because we realize the needs of creators apart from laptop specifications, high screen quality is also fundamental for creators," he said.
ASUS OLED display technology provides high color and detail quality and has reduced exposure to harmful blue light by up to 70 percent, including 100% DCI P3.
VivoBook Pro 14X/16X OLED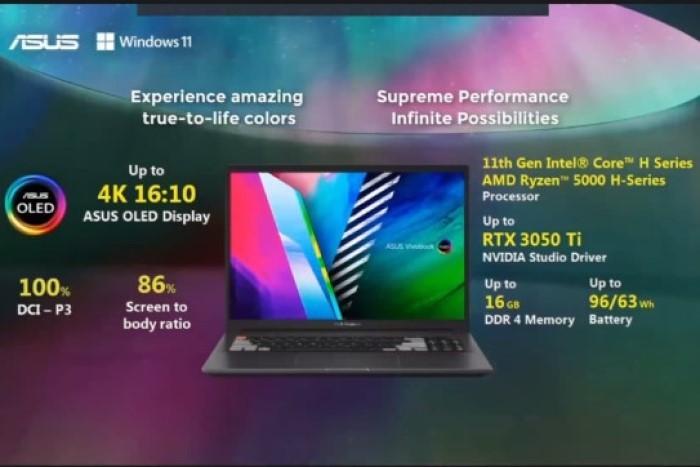 The VivoBook Pro X OLED Series is available in two screen sizes which include 14 inches and 16 inches. This laptop carries an industrial design made of aluminum and also a firm line pattern that makes it a trendy device.
What's more, in the keyboard area the Esc key has a neon color and there is also a hazard stripe pattern near the Enter key. For the first time with this laptop, ASUS has released a new feature, namely the ASUS Dial Pad, where creators can work optimally to complete tasks on their favorite creative applications.
This laptop is equipped with a screen resolution of up to 4K with an aspect ratio of up to 16:10. The processor is powered by the 11th Generation Intel series or AMD Ryzen 5000 H accompanied by a graphics card up to NVIDIA GeForce RTX 3050 Ti with DDR4 RAM capacity of up to 16 GB. The battery provides two capacity variants of 96 or 63Whr depending on size.
VivoBook Pro 14/15 OLED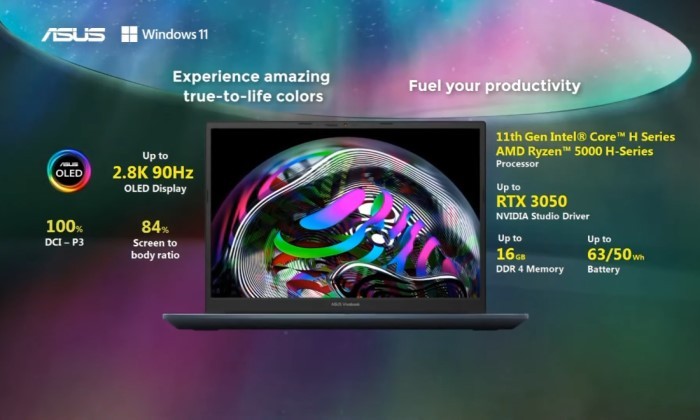 This lightweight and compact laptop is designed for creators who are just starting out as content creators. VivoBook Pro OLED offers two sizes which include 14 inches and 15 inches with screen resolutions up to 2.8K and 90Hz refresh rate.
The kitchen runway also offers two choices, including the 11th Generation Intel Core H series or AMD Ryzen 5,000 H. The processor is combined with an NVIDIA GeForce RTX 3050 graphics card and has a DDR4 RAM capacity of up to 16 GB. The battery provides two capacities, namely 63 or 50Whr.
ZenBook Pro Duo 15 OLED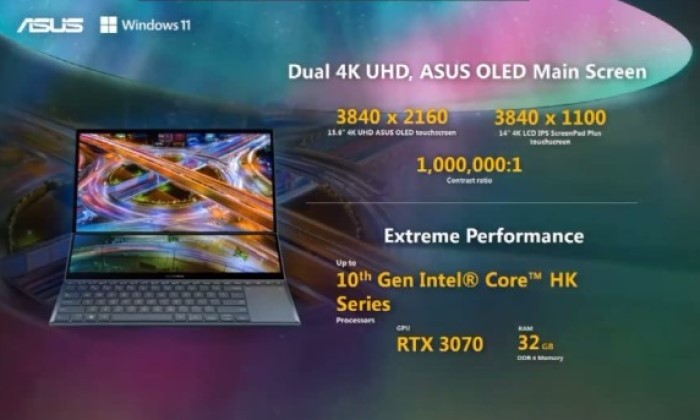 The ZenBook Pro Duo 15 OLED laptop is a device that ASUS recommends for professional or advanced creators who need more advanced laptop features and performance from novice creators.
In terms of appearance, this laptop has two dual screens that can be operated by touching. The main screen measures 15.6 inches with a resolution of 4K UHD (3840 x 2160 pixels) while the second screen measures 14 inches with a resolution of 4K UHD (3840 x 1100 pixels) with an IPS LCD panel.
If the screen is opened, the second screen will be raised at an angle of 9.5º to provide a more comfortable viewing angle for the eyes. The space presented by this second screen can also optimize airflow from inside the engine innards.
In addition, the second screen can also be used with a stylus Pen with a pressure level of 4096. Plus, on the second screen, creators can take advantage of the control panel which contains several integrated creative applications.
The processor embedded in the body of this laptop is the 10th Generation Intel HK Series and is accompanied by a DDR4 RAM capacity of up to 32 GB and uses an NVIDIA GeForce RTX 3070 graphics card.
ZenBook 14 Flip OLED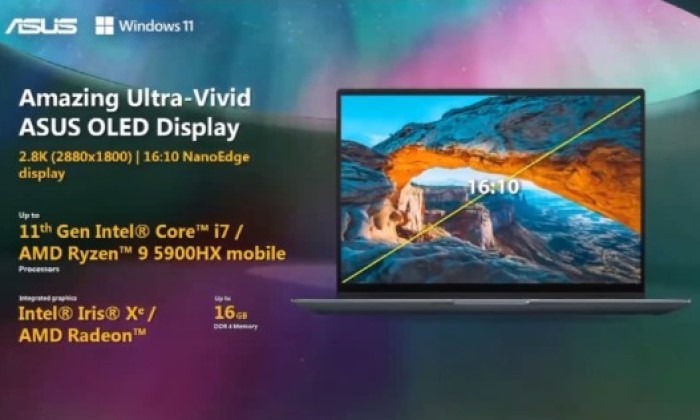 Finally, the ZenBook 14 Flip OLED laptop is charming with a 14-inch screen that targets creators with more work through writing or handwriting. The screen ratio is 16:10 which has a resolution of 2.8K (2880 x 1800 pixels).
The processor offered offers two variants including the 11th Generation Intel i7 or AMD Ryzen 9 5900 HX combined with an Intel Iris Xe or AMD Radeon graphics card and 16 GB of DDR4 RAM.
It weighs only 1.4 kg which is very light and compact to carry. This laptop screen can be folded up to 360º to change into various modes including tablets, laptops, tents, and displays. There is also a stylus Pen to help creators of clothing designers or illustrators who like to draw their imagination digitally.
ASUS Creator Series price in Indonesia
| | |
| --- | --- |
| Variant | Price |
| ASUS VivoBook Pro 14X OLED | Rp16,299,000 |
| ASUS VivoBook Pro 16X OLED | Rp22,999,000 |
| ASUS VivoBook Pro 14 OLED | Rp12,299,000 |
| ASUS VivoBook Pro 15 OLED | Rp15,299,000 |
| ASUS ZenBook Pro Duo 15 OLED | Rp42,999,000 |
| ASUS ZenBook 14 Flip OLED | IDR 18,799,000 |
---
Get selected technology news from Gadgetren directly to your cellphone in the Telegram application: https://t.me/gadgetren
---