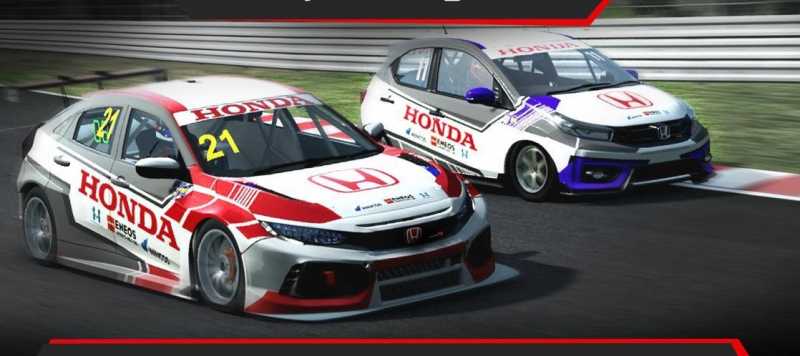 Uzone.id – Every year, PT Honda Prospect Motor consistently participates in touring championships and national slalom racing events in Indonesia to date.
Together with the Honda Racing Indonesia (HRI) team, Honda announced its participation in several championship events throughout 2022 with a new composition of drivers.
For the 2022 season, the HRI team will participate in the Indonesia Sentul Series of Motorsport (ISSOM) at the Sentul circuit in the 3,600 cc Super Touring Car Racing (STC-R) event, with Alvin Bahar using a Honda Civic Type R car.
Not only that, Honda will also participate again in the 1,500 cc Indonesia Touring Car Race (ITCR), which will be followed by Avila Bahar, who will use the Honda City Hatchback RS for the first time in the Master class.
READ ALSO: KIA Carens Presents at Gaikindo JAW 2022, Take a Peek at Its Mainstay Features
This year, Naufal Rafif Busro was also introduced as a new HRI racer who will take part in the 1,200 cc ITCR event using a Honda Brio RS.
Naufal Rafif Busro, who is only 15 years old, has previously participated in various prestigious racing events such as the Honda Brio Speed ​​Challenge (HBSC), ITCR National Championship in 2021.
Not only the national touring championship, HRI also announced to field two of its slalom racers in the 2022 Autogymkhana championship which will be followed by Anandyo Dwiki in class A (Man).
And Canya Prasetyo in class A (Woman). Autogymkhana is a national slalom championship that will be held in several regions in Indonesia from March – November 2022.
READ ALSO: Ford Comeback March 2022, these are the 4 models for sale
Yusak Billy, Business Innovation and Sales & Marketing Director of PT HPM said, "Honda together with HRI are proud to introduce a new composition for the 2022 season from classes, cars, to new drivers.
"This is done as a form of our commitment to continue to advance the racing championship in Indonesia and to support young racers in line with the Everyone Can Race spirit that we always carry." he said.
In the same season, Honda will also hold the One Make Race 2022 event as a form of Honda's commitment to supporting racing events consisting of the Honda Brio Speed ​​Challenge (HBSC).
And the Honda City Hatchback RS Speed ​​Challenge (HCHSC) which was held for the first time to replace the Honda Jazz Speed ​​Challenge.
Honda Vario 160 Unboxing VIDEO:
Help us get to know you better by filling out a survey here