Although there is actually a way to view Instagram stories that have been around for a long time, there are still many IG users who don't know how to do it.
Even some users think that past IG stories can't be seen again. In fact, this turned out to be quite easy to do.
Please note, IG stories are one of the features that are present on Instagram and are the most frequently used features by its users.
That is why, Instagram itself provides various features that can be used in the IG story itself. And one of them is to see IG stories that are long gone.
This feature is indeed quite important, considering that Instagram stories are only valid and can appear within 24 hours. And after that it will be deleted automatically.
So, if you are an Instagram user who often posts IG stories, then at least you must know how to display long past IG stories.
How to View Long Gone Instagram Stories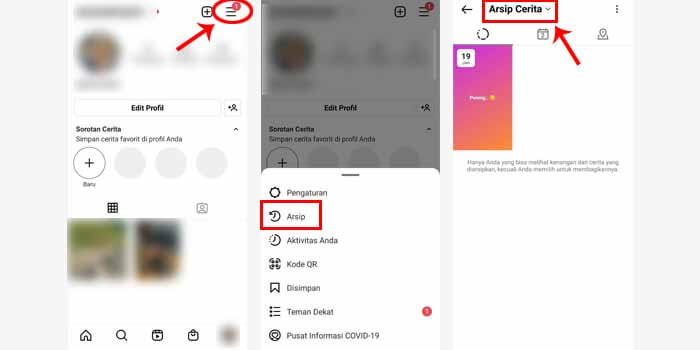 As previously mentioned above, this job is a feature of instagram. Therefore, you can do it directly from the Instagram application and without the need for the help of other additional applications.
Here's how to view long past IG stories:
First, run the instagram app on your device.
Then go to your IG profile page.
Tap the three-line icon in the top corner to open the menu.
Next, select the Archive menu.
Once the Archive menu opens, select the Archive Stories option at the top.
Then, all your past Instagram stories or stories appear.
Finished.
Now you have successfully viewed the past Instagram stories. Very easy isn't it?
You can actually save, reshare, create highlights, and permanently delete IG stories in the Archive menu.
The method is also quite easy, just select the IG story you want, then select the desired feature. Do you want to save it, share it, put it in the spotlight, or delete it.
Instagram Story Archive Questions
Can you save a long past IG story?
You can save past Instagram stories from the Story Archive menu. The trick is to select the desired story, then press the three-dot icon and then select the Save option.
Why aren't Instagram stories in the story archive?
If the Instagram story you want doesn't appear in the Archive story menu, then you most likely have disabled the Save Stories to Archive feature. Or you delete the IG story before the 24 hour period.
How do I see someone's IG story that has been deleted?
Can not. You can't see other people's IG stories that have been lost. However, you can borrow the person's cellphone to enter the Story Archive menu.
Or you can also download the Instagram story first before they delete it.
Conclusion
With the convenience in this story Archive menu, you don't have to worry about anything in creating Instagram stories.
Because even though the Instagram story is gone, you can still see it again. And even save or re-share them.