Telset.id, Jakarta – Good news for those of you who like to read books or are bookworms because Huawei launched the Huawei MatePad Paper tablet product which was given
Reported Telset from Gadget 360 on Tuesday (1/3/2022), Huawei MatePad Paper is a tablet device for consumers who like to read electronic books.
In terms of specifications, the MatePad Paper tablet has dimensions of 225.2 x 182.7 x 6.65 mm and weighs 360 grams. This tablet screen is an E-ink screen type which is 13.3 inches in size, with a resolution of 1,872 x 1,404 pixels. The screen-to-body ratio is about 86.3% and the pixel density is 227 pixels per inch (ppi).
Read also: Officially debuted in Indonesia, this is the price of the Huawei P50 Pro
The large screen is deliberately presented to pamper bookworms, who like to read books for a long time.
On the inside, the MatePad Paper uses the HarmonyOS 2.0 operating system which is supported by a hexa-core processor, 4 GB of RAM and 64 GB of internal storage.
The tablet is also backed by a 3,625 mAh battery, as well as 4 microphones for audio recording and dual speakers. The speakers embedded in MatePad Paper are able to produce clear sound because of Huawei Histen 7.0 technology.
Features of Huawei MatePad Paper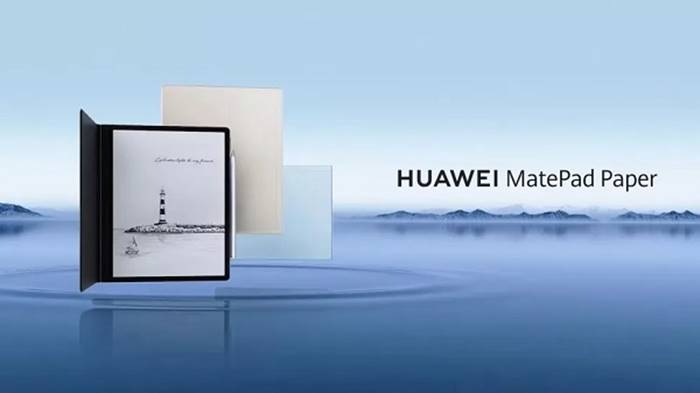 Besides being used for reading, Huawei's latest tablet can also be used for writing. This is because the MatePad Paper has a second-generation Huawei digital pencil or M-Pencil that offers a latency rate of 26 microseconds.
Users can also easily share content from other devices because the tablet has connectivity devices, namely Wi-Fi 802.11 a/b/g/n/ac/ax, BLE, Bluetooth v5.2, OTG, and a USB 2.0 Type-C port.
There is also HiSuite, so MatePad Paper can be connected to laptops, PCs, tablets, and Huawei phones. Other features that are not inferior are the gravity sensor, hall sensor, and fingerprint sensor which are deliberately presented to provide a sense of comfort and security to the user.
Also read: Bring Entry Specs, this is the price of the Huawei MateBook D15 in Indonesia
MatePad Paper is sold at a price of 499 Euros or Rp. 8 million and is offered in 1 color choice, namely Black. The price of Rp. 8 million itself includes the M-Pencil and Folio Cover.
Unfortunately at the Mobile World Congress (MWC), 2022 Huawei has not shared details about the sale and availability of the MatePad Paper tablet.
However, if the tablet has been released to the market, Huawei MatePad Paper will most likely compete with Amazon's Kindle which first appeared on the market. (NM/HBS)