Suara.com – Pasaman Regency in West Sumatra was recently rocked by an earthquake on Friday (25/2/2022). Based on data compiled by the Disaster Response Committee and the IDI Mitigation Team for the West Sumatra Region, four of the victims died as a result of the reported earthquake.
Among the four victims who died, one victim was a child under five, and one was a teenager. Meanwhile, from the data of the victims referred, there is one child aged 8 years due to a broken bone.
The Indonesian Pediatrician Association (IDAI) Disaster Task Force, represented by the West Sumatra Branch, immediately dispatched two pediatricians and four pediatric resident general practitioners to the affected areas.
Head of IDAI West Sumatra, According to Dr. Finny Fitry Yani, SpA(K) said his party has prepared a team that will go to the field to mitigate and handle disaster victims, especially children in earthquake-affected areas for the next one week in turns.
Also Read:
Bad Times! Same-sex Couple Creates TikTok Kiss Content in the Jam Gadang Area, Already Have a Family and Children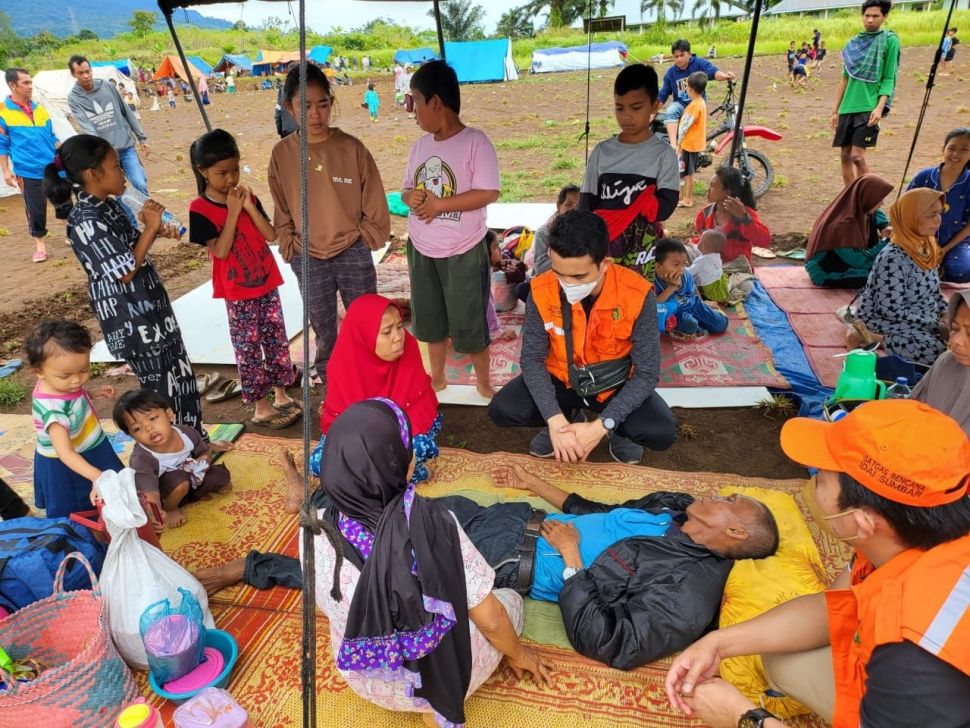 Each team will consist of two pediatricians and four resident doctors.
"We are also coordinating with IDI (Indonesian Doctors Association) West Sumatra and other medical professional organizations as well as Basarnas and BNPB for handling victims, especially children."
"Donation assistance from IDAI members throughout Indonesia is centered in IDAI West Sumatra and most of it has been distributed in the form of basic necessities and vital equipment, especially for children," said Dr. Finny as quoted from a press release, Sunday (27/2/2022).
The West Sumatra IDAI Disaster Task Force First Team consisted of Dr. Indra Ihsan SpA(K) and Dr. Ronaldi Noor, SpA and four resident doctors in the Nagari Kajai area, who found three child victims.
Of the three children, one child had a febrile seizure, one child with epilepsy stopped treatment after being treated by the team and then referred to a local hospital in Pasaman, while at the evacuation post, and one child with suspicion of hepatitis A.
Also Read:
West Pasaman Earthquake, Death toll Increases
According to the IDAI Disaster Task Force for West Sumatra, dr Indra Ihsan, SpA(K), from a total of about five thousand refugees in the Nagari Kajai area, there are around 190 children consisting of 20 babies under one year of age, around 50 toddlers, and around 120 children. children aged five to 15 years.
On this Sunday (27/2), the second team from the West Sumatra IDAI Disaster Task Force consisting of three pediatricians, namely dr. Asrawati Sp.A(K), dr.Irwandi Sp.A, and dr. Riris Juwita Sp.A and six resident doctors who have arrived at the Nagari Kajai location.
And there are also several other teams that will go to Malampah whose route was only opened this Sunday by Basarnas.
Head of the IDAI Disaster Task Force Dr Kurniawan Taufiq Kadafi, SpA(K) said IDAI had established an emergency health post in Kajai as one of the supporters of the Kajai Health Center Health facility.
From the monitoring of the IDAI Disaster Task Force Team in the two affected areas (Kajai and Malampah), the children in those areas began to see the effects of the disaster on children in the form of diarrhea due to lack of clean water and when the refugee camps were set up the day before, it was still raining.
In addition to diarrhea, the IDAI Disaster Task Force Team, led by the West Sumatra IDAI Disaster Task Force, is also worried about the threat of a number of childhood diseases that may be seen in the next few days such as Upper Respiratory Tract Infections (ARI), Hepatitis A, Malaria, gastrointestinal infections, skin diseases, typhoid, and Covid-19.
In addition, said Dr. Indra, it is feared that the stunting problem that has been occurring in the Pasaman area also has the potential to worsen during this disaster period.