Suara.com – Entrepreneur Arifin Panigoro passed away on Monday (28/2/2022) at the Mayo Clinic, Rochester, United States, at around 03.45 WIB.
So far, Arifin Panigoro is known as an oil and gas entrepreneur who he started with his friends in the 1980s. Until now he was dubbed the King of Indonesian Oil.
In addition, Arifin Panigoro also entered the world of politics. He was elected as Chairman of the DPP and Chairman of the PDIP Faction from 2002 to 2003.
However, he left the party and founded his own party, the Democratic Reform Party.
Also Read:
FKUI Health Experts Reveal 5 Reasons Indonesia Is Not Free From Tuberculosis
In 2019, the man who died at the age of 76 years was inaugurated as the Presidential Advisory Council for the period 2019 to 2024 by President Joko Widodo.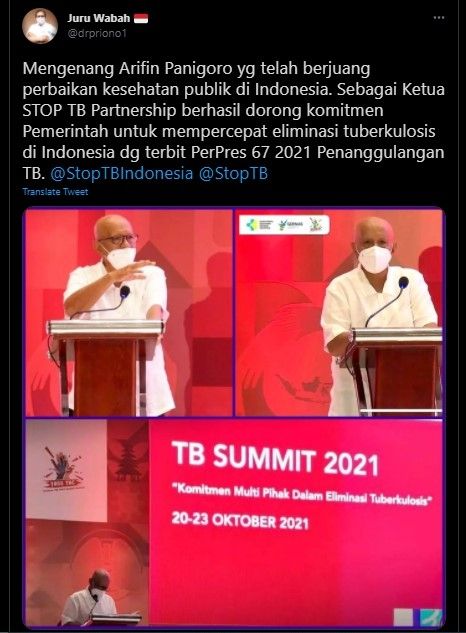 Play a role in controlling Tuberculosis in Indonesia
However, Arifin Panigoro's gait did not end there. He also has a role in improving the health of the Indonesian people.
Arifin Panigoro is the founder and Chairman of the Board of Trustees of the Stop TB Partnership Indonesia Foundation.
According to a tweet from the University of Indonesia epidemiologist, Pandu Riono, the late Arifin Panigoro had a role in encouraging the government's commitment to accelerate the elimination of tuberculosis in Indonesia.
Also Read:
50 Years of Being a Specter in Indonesia, Tuberculosis Causes More Deaths than Covid-19
"In memory of Arifin Panigoro who has struggled to improve public health in Indonesia. As the Chair of the STOP TB Partnership, he succeeded in encouraging the Government's commitment to accelerate the elimination of tuberculosis in Indonesia by issuing Presidential Decree 67 2021 on TB Control," tweeted Pandu Riono, Monday (28/2/2022).
It is known that tuberculosis is a disease that is the 13th leading cause of death in the world.
Meanwhile, Indonesia is the third largest contributor to TB cases in the world after India and China. In 2019, TB patients in Indonesia reached 845,000 patients.
Quoting Alodokter, tuberculosis is an infectious disease caused by a bacterial infection. Although it usually attacks the lungs, TB can affect other organs such as the kidneys, spine, and brain.
Transmission occurs when a person inhales droplets of saliva or droplets from a TB patient when sneezing or coughing. The risk of transmission increases when a person lives with someone with TB.
Symptoms of TB are cough with phlegm or blood for more than three weeks. Other signs are fever, chest pain, and night sweats.