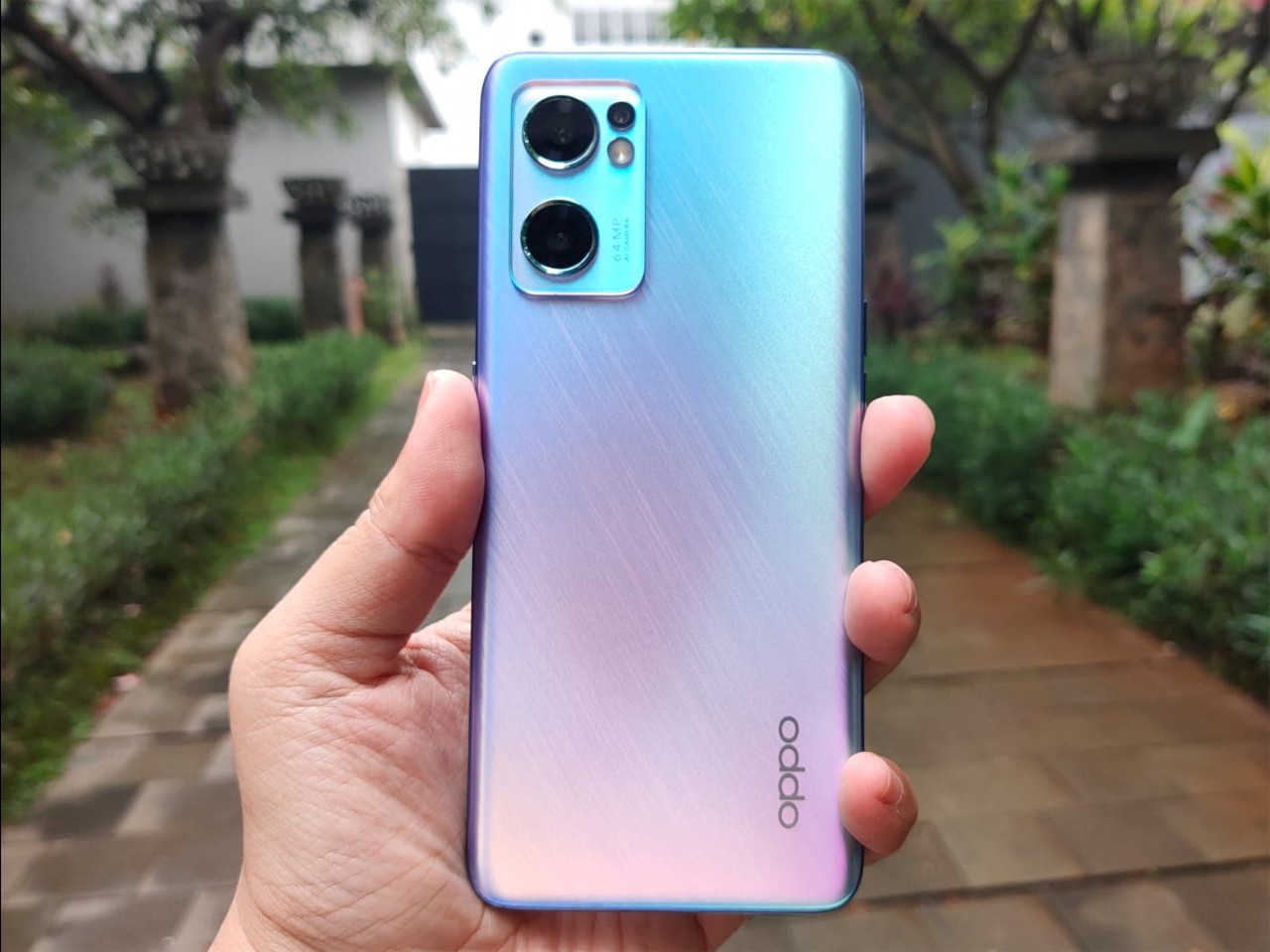 Before the launch time arrived, I had the opportunity to take a closer look and do hands-on on the latest Reno series cellphone, namely OPPO Reno7 5G in Indonesia.
This OPPO Reno7 5G has a thickness of only 7.81mm and weighs 173 grams so it feels comfortable and light when held for a long time. The rounded edges allow me to grip this product with one hand.
This device comes with two color choices consisting of Startrails Blue and Starry Black. At first glance, I myself was attracted by the color Start trails Blue because it is able to present many interesting color gradations when viewed by the eye.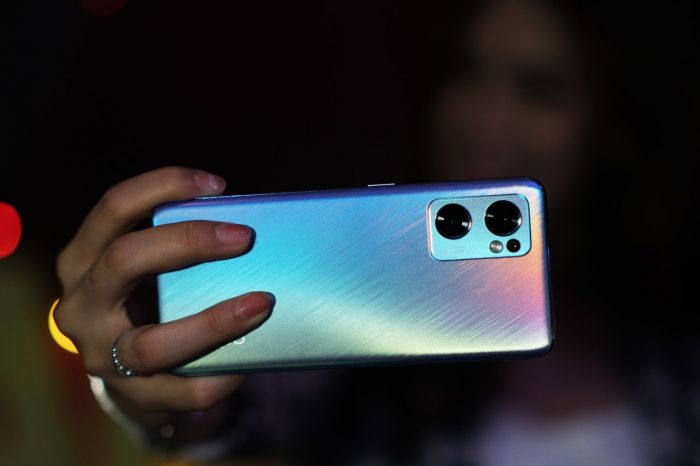 The OPPO Reno7 5G with a back section of Startrails Blue uses the Laser Direct Image (LDI) technique with laser engraving technology on the layer above the OPPO Glow layer.
This technology from LDI gives OPPO flexibility for imagination space in designing a cellphone back section. You could say LDI is a major technique used in semiconductor fabrication to produce high precision.
OPPO applies LDI to mimic the image of a star trail and creates a pattern consisting of 1.2 million micro rasters and each produced with a precision of only 20 microns. Next, the image is transferred to the back of the Reno7 5G.
With a double layer of LDI technique on top of OPPO Glow, this phone has two different color layers, creating dynamic gradient colors that change when viewed from different angles.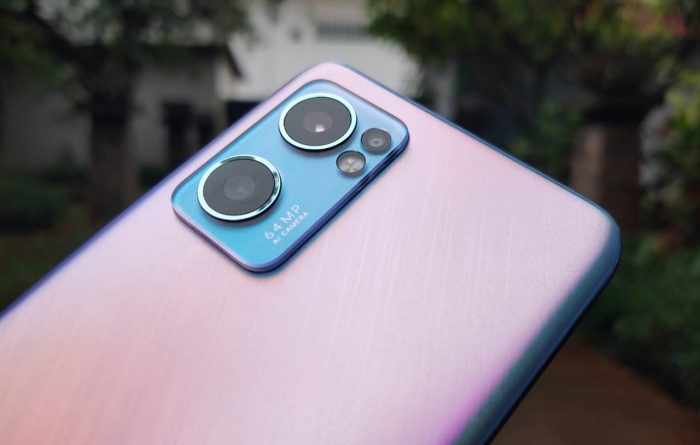 Not only the blue gradient color combined with purple and orange, Startrails Blue also shows fine lines like star trails that are visible to the naked eye.
When I touched this phone, I felt that the back body didn't feel slippery at all. Even fingerprints and dust don't stick to the back of the Reno7 5G easily.
Furthermore, the OPPO Reno7 5G Starry Black variant offers the classic black balance and transformative shimmer of OPPO Glow. This variant has a black and blue color gradation with a subtle glow that gives a simple, yet premium look like a shining star in the universe.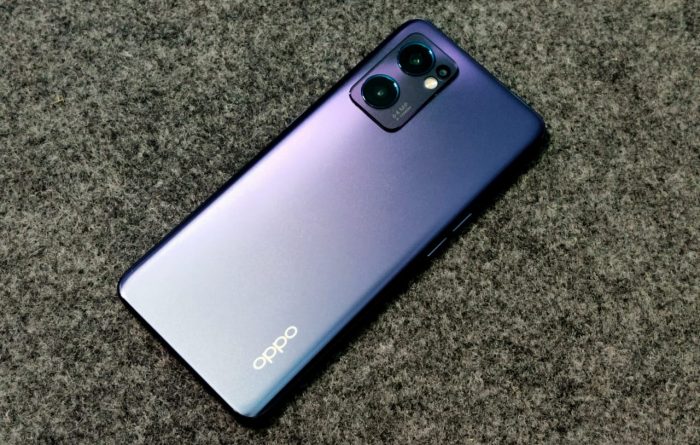 In addition to not being slippery when held with one hand and resistant to scratches, fingerprints and dust are not easy to stick to the OPPO Reno7 5G Starry Black.
Although the OPPO Reno7 5G Startrails Blue variant is more colorful and attractive, it is also possible that some people are interested in the simple Starry Black variant.
Still on the back of this phone, there is an elegantly arranged triple rear camera layout with two large round cameras with shiny ring edges, a small camera, and an LED Flash located in the box at the top left.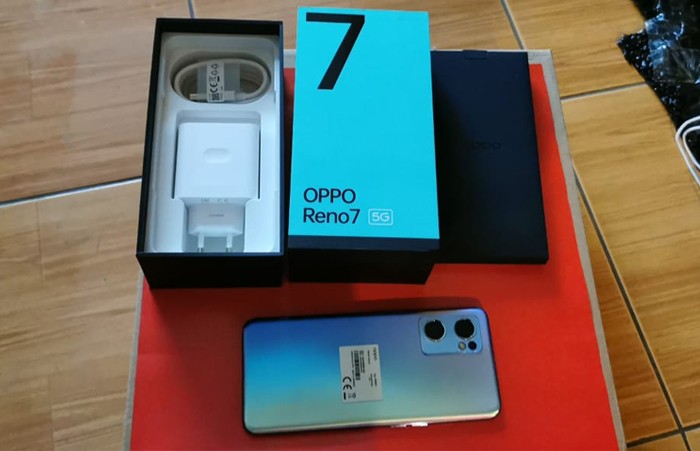 [Foto: Teknogav]
OPPO Reno7 5G has a box that is dominated by the number 7 and the words OPPO Reno7 5G. While in this product box there are several accessories, ranging from data cable (charger or data transfer), charger adapter, ejector PIN for SIM card, manual, warranty card, and additional softcase.
Interestingly, the charger adapter and data cable on the OPPO Reno7 5G support the 65W SuperVOOC feature which is claimed to be able to charge a 4,500mAh battery from 0% to 100% in just 31 minutes.
To find out comprehensive information about the full specifications and features of this device, you can watch the official OPPO Reno7 Series 5G launch event on March 2, 2022 at 19.00 WIB via YouTube and OPPO Indonesia's official social media accounts.