Uzone.id – The consistency and sustainability of PT Telkom Indonesia in building telecommunications infrastructure is not only in Indonesia and remote areas, but also on an international scale.
Through its subsidiary PT Telekomunikasi Indonesia Internasional (Telin), TelkomGroup has rejoined the Southeast Asia-Middle East-Western Europe 6 (SEA-ME-WE 6) international submarine cable communication system consortium.
This was officially announced at the end of February 2022 along with the start of construction of a 19,200 km submarine cable system connecting several Southeast Asian and European countries.
Previously in 2014, Telin also participated in the SEA-ME-WE 5 consortium mega project.
The SEA-ME-WE 6 consortium consists of several major operators from various countries in the world, such as Bangladesh Submarine Cable Company, Bharti Airtel Ltd. (India), Dhiraagu (Maldives), Djibouti Telecom, Mobily (Saudi Arabia), Orange (France), Singtel (Singapore), Sri Lanka Telecom, Telecom Egypt, Telekom Malaysia, Telin (Indonesia), and Trans World Associates (Pakistan) .
Read also: 2025, 5G is estimated to be evenly distributed in Indonesia
SEA-ME-WE 6 itself connects many countries including Indonesia from Singapore (Asia) to France by crossing Malaysia, Bangladesh, Sri Lanka, Maldives, India, Pakistan, Djibouti, Saudi Arabia, and Egypt.
The SEA-ME-WE 6 Consortium also comes with one of the lowest latency available between Southeast Asia, the Middle East and Western Europe, with transfer capabilities of more than 100 terabytes per second or the equivalent of 40,000 HD resolution videos every second.
In short, this infrastructure will have twice the fiber optic cable capacity compared to the previous SEA-ME-WE infrastructure.
Director of Wholesale & International Service Telkom, Bogi Witjaksono welcomed the presence of SEA-ME-WE 6 and expressed full support for TelkomGroup to participate in this consortium of international infrastructure mega projects.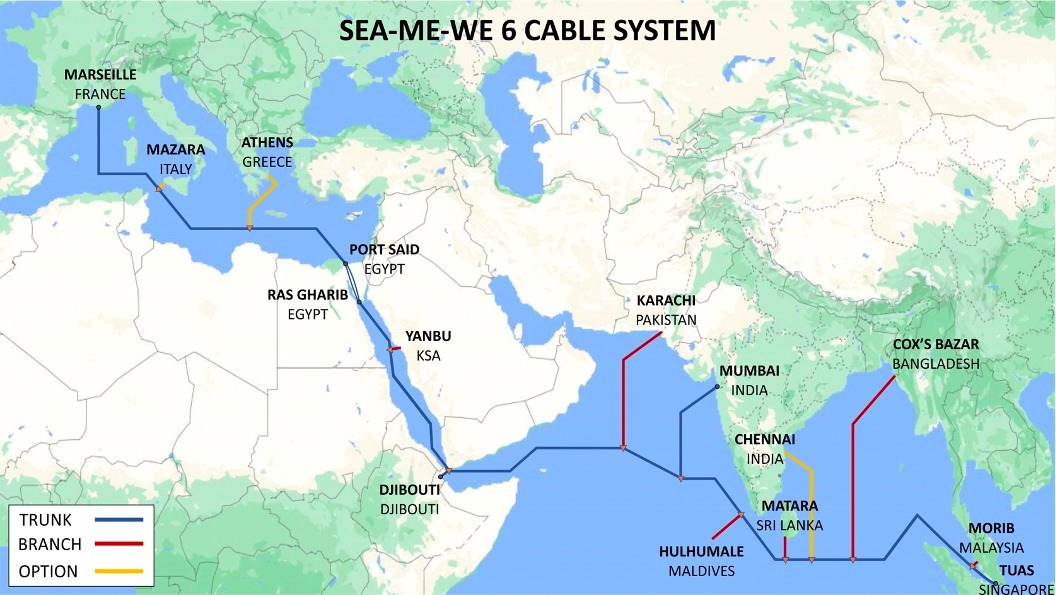 "Telin's participation in SEA-ME-WE 6 will strengthen TelkomGroup's international cable infrastructure which is targeted to improve the quality of faster broadband access and provide the best digital experience for customers," said Bogi in a statement received by Uzone.id.
He continued, "This is certainly a breath of fresh air that can accelerate digital transformation and innovation in the hope that it will have a positive impact on national economic growth."
Telin's Chief Executive Officer, Budi Satria Dharma Purba also admitted that he is very enthusiastic about the construction of the SEA-ME-WE 6 submarine cable system which will add to Telin's existing global infrastructure.
"SEA-ME-WE 6 will connect 10 countries stretching from Southeast Asia to Europe, with the expansion of connectivity to Indonesia using the existing Telin submarine cable communication system to provide users with faster broadband access," said Budi.
Also read: Increase Digital Talent, Telkom collab with Campus
He continued, "It's been a while since we've seen a surge in demand for fast internet due to changing trends such as flexible work arrangements, video streaming, and gaming. We are committed to supporting the development of Indonesia's digital ecosystem towards an international level. Collaborating with global enterprises in SEA-ME-WE 6, we are ready to serve national connectivity with reliable technology."
With the unpredictable demands of connectivity, coupled with the dynamic digital transformation that is transporting more and more consumers in Asia via Europe into digital reality, SEA-ME-WE 6 offers a high-reliability alternative route for heavy communications traffic between Asia and Europe.
In addition, the consortium is expected to strengthen the overall network of partners through landing point new trans-Egyptian.
This added flexibility allows service providers within the consortium to rapidly increase capacity, secure traffic, and lower the total cost of network ownership. The submarine cable communication system is expected to be completed in the first quarter of 2025.
For your information, as of September 2021, Telkom has 170,035 km of fiber optic consisting of 105,335 km of domestic submarine cables and 64,700 km of international submarine cables.
fiber optic This reaches up to 496 IKK throughout Indonesia. To support infrastructure fiber optic, Telkom is also supported by satellites with a total of 109 transponders.
Help us get to know you better by filling out a survey here