Telset.id, Jakarta – Telkomsel is holding the Telkomsel Poin Goes to Mandalika loyalty program for customers to get the opportunity to watch the 2022 MotoGP series for free directly at the Mandalika circuit. For those who are interested, read how to watch MotoGP Mandalika for free with Telkomsel.
Telkomsel's VP of Brand and Marketing Communications, Abdullah Fahmi, said the Telkomsel Poin Goes to Mandalika program was a form of appreciation for Telkomsel's loyal customers by inviting lucky customers to witness the 2022 MotoGP live at the Mandalika Circuit.
"We present a loyalty program for loyal customers to be able to experience directly witnessing the MotoGP international sporting event in Mandalika," said Fahmi.
Also read: Telkomsel Provides 5G Access at Mandalika International Street Circuit
In addition, this event is also an effort to support the local tourism sector in West Nusa Tenggara (NTB), especially the Mandalika area which currently has the status as Indonesia's super priority destination.
"We also hope that this program can help the revival of the local tourism sector, including in the Mandalika area, West Nusa Tenggara (NTB)," said Fahmi.
How to Join the Free Watch MotoGP Mandalika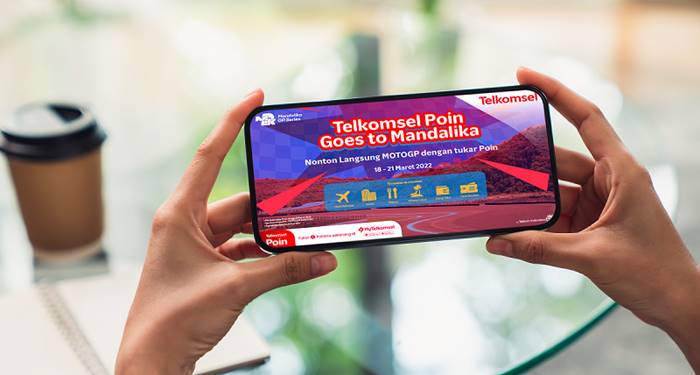 The Telkomsel Poin Goes to Mandalika program provides 4 Days 3 Nights Travel Package prizes to 5 winners and 1 companion.
The trip will be carried out from March 18 to 21, 2022. The travel gift packages given include air tickets from the city of origin to Jakarta round-trip (PP), flights from Jakarta to Lombok (PP), pocket money, lodging, accommodation, and consumption.
Also read: Welcoming MotoGP 2022, Government Builds 5G Infrastructure in Mandalika
Then there are tickets to watch the Mandalika MotoGP live on 19 and 20 March 2022.
Joining the Telkomsel Poin Goes to Mandalika program is very easy. Customers only need a few steps and here is the complete method.
Customers only need to redeem at least 1 Telkomsel Points, with 1 coupon Lucky draw The Mandalika MotoGP Travel Package via the MyTelkomsel application until March 6, 2022.
Customers who have redeemed 1 Telkomsel Point will receive an SMS notification in the form of a coupon Lucky draw for tourist tickets and watching MotoGP at Mandalika.
Customers can redeem as many Telkomsel Points as possible to get a bigger chance to win.
The winner of the Telkomsel Poin Goes to Mandalika program will be announced on the official Telkomsel website or www.telkomsel.com on March 7, 2022.
Winners will also be contacted directly by a Telkomsel representative. The gift tax is fully borne by Telkomsel and without any additional costs.
So for you Telkomsel customers, immediately exchange your Telkomsel Points with coupons Lucky draw to have the opportunity to watch the 2022 MotoGP at Mandalika for free. [NM/HBS]