Suara.com – March 3 every year is celebrated as World Hearing Day, and for people with congenital deafness hearing aids are often the second life to communicate.
Luckily for BPJS Health participants, hearing aids can be covered so that the costs are not so burdensome.
Congenital deafness is deafness that occurs before delivery or at the time of delivery, caused by genetic and non-genetic abnormalities.
So, how do you get hearing aids through BPJS Health?
Also Read:
6 Complete Requirements for SKCK Extension, Do You Have to Bring a BPJS Health Card?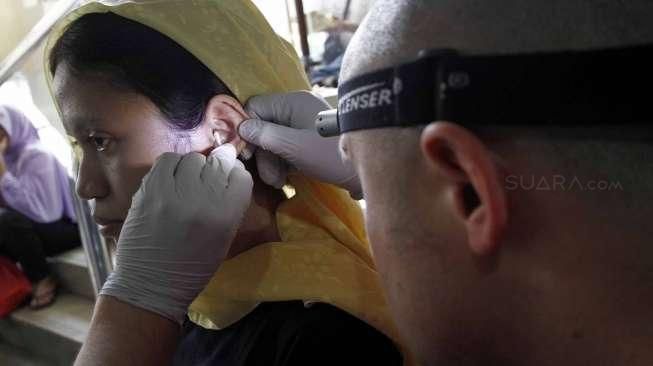 The Acting Director for the Prevention and Control of Non-Communicable Diseases, Ministry of Health, revealed, dr. Elvieda Sariwati, M.Epid, to access hearing aids, patients with congenital deafness must first be examined and diagnosed at health facilities in collaboration with BPJS Kesehatan.
"Well, according to the indications, it can be claimed (hearing aids) with BPJS, to access, so you have to check first at the facilities that cooperate with BPJS Kesehatan," explained dr. Elvieda at the Ministry of Health press conference, Tuesday (1/3/2022).
Because everyone can suffer from congenital deafness, because babies are born with this deafness, dr. Elvieda ensures that hearing aids are accessible to everyone, regardless of age.
"Anyone can have access, from BPJS Health there is no age limit, the important thing is according to the indications of the doctor who carried out the examination," he explained.
On the other hand, the Head of the Indonesian Association of Ear Nose Throat Surgeons (PP PERHATI-KL), Prof. Dr. dr. Jenny Bashiruddin revealed the reality on the ground, the subsidy provided by BPJS Kesehatan for hearing aids was only Rp. 1 million.
Also Read:
BPJS Health Rules as Requirements for SIM and STNK Renewal have not been implemented in Batam
Unfortunately, this number often cannot answer the hearing needs and comfort of people with congenital deafness. As a result, it is not uncommon for patients to choose to add costs independently to buy hearing aids.