Uzone.id – A viral post uploaded by a Facebook user named Liberty Agustinus shared the story that he was a potential buyer of the Toyota Fortuner GR 2.8L.
He confessed, sales dealer Toyota has sent a letter of agreement for him to sign. The agreement underlines that if the Fortuner 2.8L is filled other than Pertamina Dex, the warranty will be lost.
Before the story goes any further, Liberty questions the Fortuner 2.8L whether it's euro 4?
READ ALSO: Toyota Fortuner's Advanced Features Exported to Australia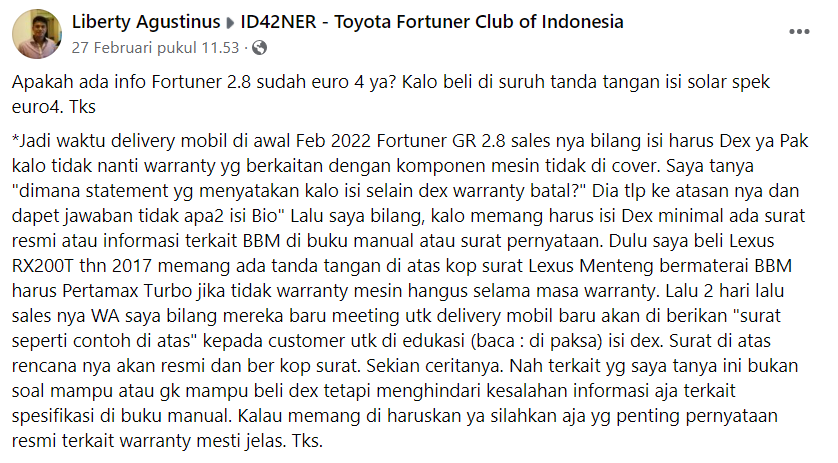 "If you buy it, you are asked to sign the contents of the Euro4 spec diesel, thanks," he wrote.
Furthermore, Liberty told me that when she first wanted to buy a Fortuner GR 2.8L, sales had required the car to use Pertamina Dex, but then sales it retracted his words.
"So when the car was delivered in early February 2022, the Fortuner GR 2.8 sales said the contents had to be Dex, sir, otherwise the warranty related to engine components will not be covered.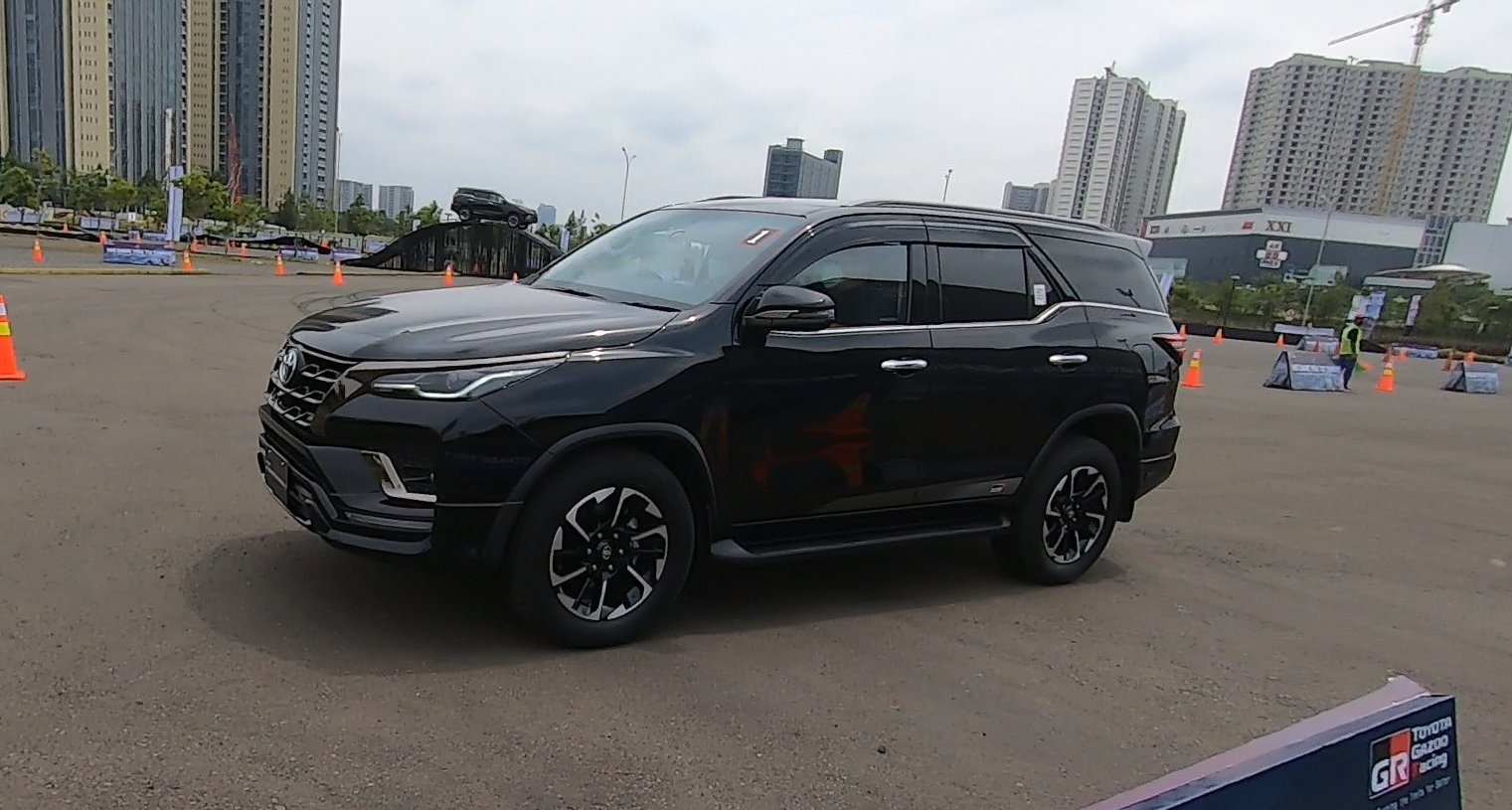 I asked 'where is the statement which states that the contents other than the warranty dex are void?' He called his superiors and got the answer that it's okay. Bio's contents. Then I said, if you really have to fill in Dex, at least there is an official letter or information related to BBM in the manual or statement letter.
I used to buy a Lexus RX200T in 2017 there was indeed a signature on the Lexus Menteng letterhead stamped with BBM, must be Pertamax Turbo, otherwise, the engine warranty will be forfeited during the warranty period.
Then 2 days ago, my WA sales said they just had a meeting for the delivery of a new car, a 'letter like the example above' will be given to the customer to be educated (read: forced) the contents of Dex.
The letter above is planned to be official and on letterhead. That's the story. Well, what I'm asking is not about being able or not being able to buy Dex, but just avoiding misinformation regarding the specifications in the manual.
If it's really required, please, what's important is that the official statement regarding the warranty must be clear. Thx."
READ ALSO: Toyota bZ4X Launches This Year, This Is The Price
Toyota's Answer
We then directly asked Dimas Aska, Head of Public Relations of PT Toyota Astra Motor (TAM) about Liberty's upload.
Dimas explained, for fellow consumers or owners of Fortuner or Innova with engine code GD with diesel engine type which has been delivered to the customer's hands to this day, they can refer to the Manual for suggestions for fuel use.
"That is for the use of diesel fuel with a Cetane Number 48 or more to ensure the health and performance of the vehicle according to its specifications," said Dimas.
Furthermore, Dimas said that this explanation can also be obtained by consumers by contacting the nearest branches or through Call Centers and HaloBeng for convenience.
"Regarding some news where there is a request for additional information regarding the minimum use of fuel currently circulating, it is a form of preparation for colleagues at the branch. dealer Toyota for the upcoming application of Euro4," he explained.
And, Dimas added, it is specifically for prospective consumers to receive vehicles when there is an adjustment to specifications with the implementation of Euro4 this year.
"For the details, maybe we will provide more complete information later. So for fellow consumers who have now received their vehicles, there is no need to worry about this information and can also consult further with Toyota through existing channels," concluded Dimas.
Help us get to know you better by filling out a survey here