Suara.com – A horrific incident was experienced by a woman who told a story through a viral video on TikTok, with the account name @afinasif or Afina Syifa whose skin was rash and blistered after taking a number of drugs.
Afina's rash occurred after she took panadol and fluimucil. Many suspect if he has SJS allergy or Stevens Johnson syndrome, as also stated by Dermatology and Gender Specialist, dr. Arini Astasari Widodo, Sp.KK.
"Most likely SJS (Stevens Johnson syndrome)," said dr. Arini via his short message to Suara.com, Monday (28/2/2022).
So the question is, what is SJS?
Also Read:
Viral on TikTok Girl Diagnosed with Steven-Johnson Syndrome after Taking Drugs, How come?
Quoting Hello Sehat, Stevens Johnson syndrome is a rare and serious disorder of the skin and mucous membranes. This condition is often a reaction to taking medication or having an infection.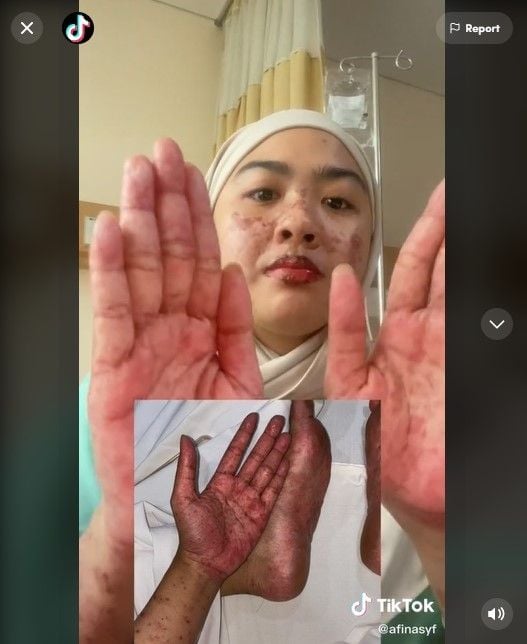 The most common symptoms of SJS are flu-like symptoms with a red or purplish rash, which is painful that spreads and blisters.
The top layer of blistered skin will then die and peel. SJS is a medical emergency that usually requires hospitalization.
This skin disease can occur in all races in the world, although it generally occurs in white people. Uniquely, this disease is more common in women than men.
In addition, this disease does not only attack humans, but can also attack animals such as dogs, cats and monkeys.
Also Read:
Viral Father Mistakes Call for Prayer to Be Takbir for Newborns, Warganet: Want to be sacrificed?
There is no specific drug that can treat this disease, but it can be reduced and minimized by reducing the risk factors or triggers for this disease.